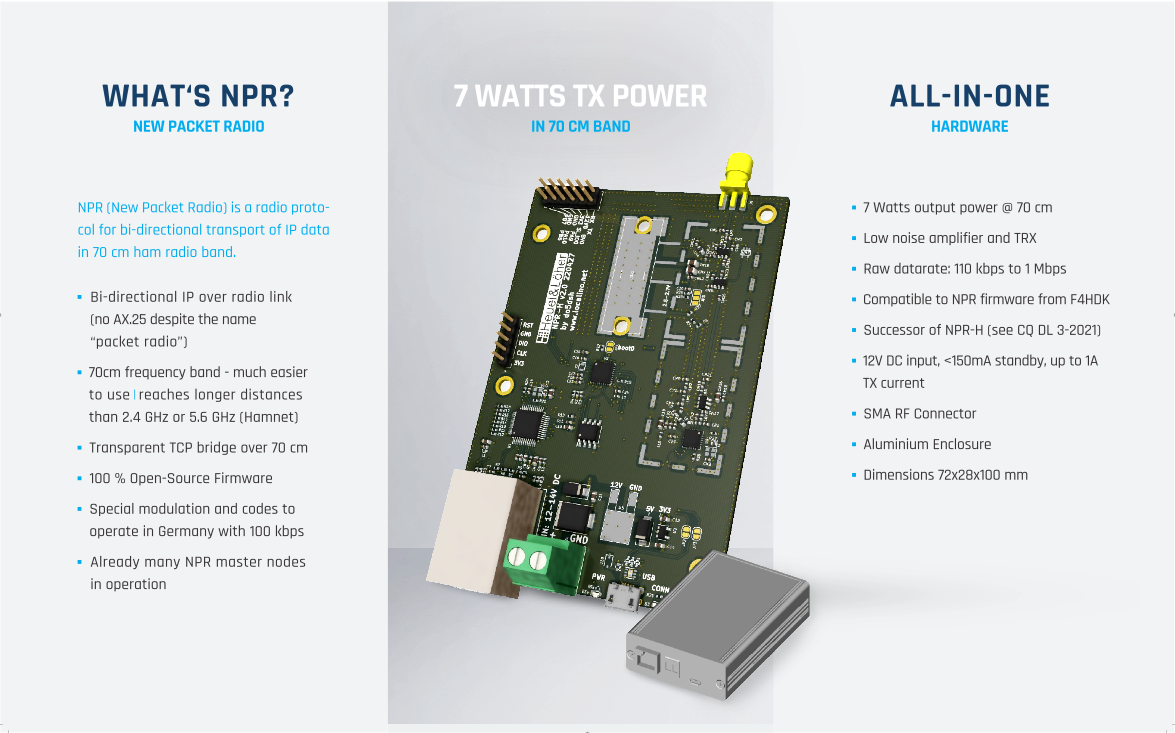 Available, delivery time: 2-5 days
Product information "New Packet Radio NPR-H 2.0"
New Packet Radio Modem Version 2.0

for long-range 70cm band HAMNET connections with up to 7W output Power.
I was amazed by the work of F4HDK. And as a ham radio guy who was active in packet radio in 1999 and the years beginning of 2000s I wanted to have something faster. HAMNET is nice, but you cannot have that long range transmissions as on 2m or 70cm bands. The NPR-H modem is compatible with F4HDK's firmware and can be used for ham radio guys as a standalone long range communication bridge, entrance to ham radio, bridge between networks, etc.
What is New Packet Radio?
Bi-directional IP over radio link (no AX.25 despite the name "packet radio")
70cm Frequency band - much easier to use / reaches longer distances than 2.4GHz or 5.6GHz (Hamnet).
Transparent TCP bridge over 70cm
100% Open-Source Firmware
Special modulation and codes to operate in Germany with 100 kbps
Already many NPR master nodes in operation
All-in-one Hardware
Up to 7 Watts output power @ 70cm
SRAM 1024K

Low noise amplifier and TRX
Raw datarate: 110 kbps to 1 Mbps
Compatible to NPR firmware from F4HDK
Successor of NPR-H, see CQ DL 3-2021 and CQ DL 3-2022

Fits into standard commercial aluminium enclosure
Design by DO5DSH, Ortsverein O28
Technical Specification

Output Power:

+38 dBm typ.
LNA Gain:

13 dB

RF Connector:

SMA

Frequency Range:

360 - 535 MHz, optimized for 70 cm ham radio band

Power consumption

170mA @ 12V, up to 1.5 A in TX

Power supply

12V -16V DC

Enclosure

Designed for
AKG 71 24 100 ME
AKG 71 28 100 ME
AKG 71 32 100 ME

Dimensions:

72x28x100mm

Delivery
New Packet Radio Modem NPR-H 2.0 PCB, flashed, tested and pre-configured. Enclose not included - please order separately.